Here we go again!  
Yet another low-volume, BS rally takes us back to the "breakout" level of S&P 2,100 and we get moves like this because TA sheeple are so easy to fool that fooling them has essentially turned into a profit center at many iBanks and Hedge Funds.
After all, what is the value of a stock if not whatever the last idiot paid for it?  Since that actually sounds like a puzzle to most of the people reading it – we Fundamental investors will always have a tremendous advantage in almost any kind of market – EXCEPT THIS ONE!  
This market, like any bubble market, is a fool's paradise that rewards the rats for hitting the BUYBUYBUY button – over and over again.  Train them well enough and, long after the cheese stops coming, the rat will still keep hitting that button, over and over again – until they have no money left to buy with – and then they seem downright surprised when they get dissected at the end of the experiment!  
Look who "won" the most recent round of S&P madness.  All the most shorted stocks led the rally – almost as if SOMEONE were purposely squeezing the stocks to force people to capitulate and buy some of the worst stocks in the index – just to provide enough energy to get us back over that 2,100 mark one more time.  How manipulated was the action?  So much so that, at 10:35 am, I was able to say to our Members:
 

 

As the moment we have Dow (/YM) 17,684 (85 off the recent high), S&P (/ES) 2,085 (9 short), Nasdaq (/NQ) 4,669 (21 shy) and Russell (/TF) 1,166 (down 10).  Figure they make an effort to get those back and a failure at 17,750 or 2,100 or 4,700 or 1,175 are all good potential short entries. 

 

 
We hit our targets right on the button so, at 3:05 pm in our Live Chat Room, I said:
 

 

So now we're at 17,739, 2,097, 4,692 and 1,184 so the RUT popped more than we thought but, then again, we knew that one was behind the others – so it makes sense it  would move up the most.  NYSE only up just over 1% and that one too is behind (10,582), so not confirming – which makes /TF a good short at 1,185 (tight stops above) and, of course, the other lines are still good shorting targets.  

 

 
Shorting the Russell was the right move as that index took a nice dive and this morning it's failing 1,180 again for another ride down for the shorts (tight stops above) 
When 3 of your 4 indexes top out at the exact number you predicted 5 hours and 1% earlier – you can either believe you are the greatest market predictor of all time or you can believe the markets are easily predictable computer-driven BS designed to sucker in the masses and steal their money.  I choose the latter, which makes me a humble conspiracy-theorist and NOT the World's most accurate chartist.  
Keep in mind we're just doing what we always do – we're shorting the top of the range. That's been a very profitable position for us so far and we're not too proud to go back to the well and do it again.  Officially, we began flipping our positions more bearish last week and, now that our Long-Term Portfolio is up 48% again, it's time to get a bit more aggressive with our short-term hedges to lock in those gains.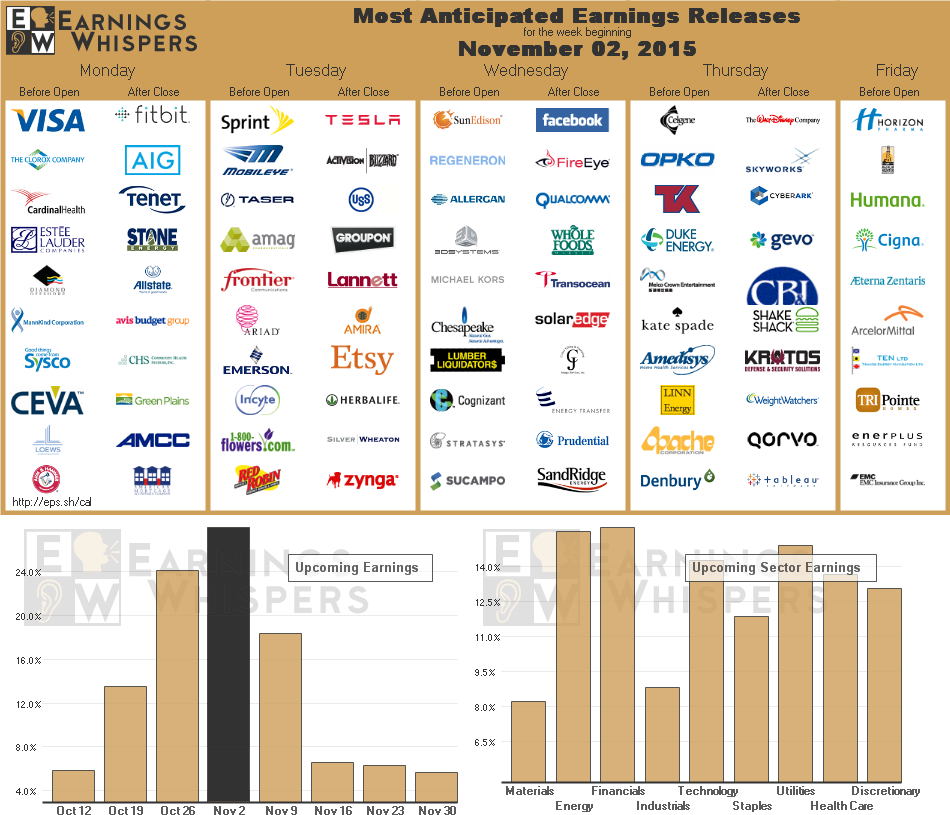 Remember our logic from yesterday's morning post was that SOMETHING bad was going to happen between now and Wednesday because they scheduled 13 Fed speakers to steer the markets into the end of the week.  We don't know what it is, but it's not likely to be good because you just don't need 13 Fed speakers when the market is comfortably making new highs, do you?  
So, while we wait to choose the form of the destructor, let's review a few things we MIGHT want to be concerned about – in a rational market (which this is not):
 

SocGen's Andrew Lapthorne says investors can credit the robust equity market returns in October to the prospect of increased central bank support from Europe and enhanced stimulus in China, or they can thank "the charade that is quarterly company reporting."

 
 

Dan Loeb says Investor sentiment suggests that there is "no longer a monetary safety net" and that Janet Yellen may have "inadvertently checked herself and the Fed into the Hotel California" and it is "increasingly difficult" to see how the Fed could justify raising rates in 2015 given recent employment "weakness" and "softness" in manufacturing figures.

 
 

?

 
 

Passport's Burbank Says No Place Safe in China-Led Downturn –  "The big risk for global markets over the next several months is a worsening in China's economy — characterized by nonperforming loan issues — which could lead China to de-peg from the U.S. dollar, lower rates and, in the process, force the liquidation of risk assets around the world," Burbank wrote. The world may be heading into "a global downturn that leaves no region safe, including the United States."

 
 

In a report sent to clients on Sunday, Bank of America Corp. strategists totted up the results of 606 global interest-rate cuts since the collapse of Lehman Brothers Holdings Inc. and the $12.4 trillion of central bank asset purchases following the rescue of Bear Stearns Cos.  The results represent a clear victory for Wall Street over Main Street, according to the team of Michael Hartnett, BofA's chief investment strategist.  For every job created in the U.S. this decade, companies spent $296,000 buying back their stocks, according to the New York-based bank.   For every $100 U.S. venture capital and private equity funds raised at the start of 2010, they are now raising $275, but for every $100 of U.S. mortgage credit extended five years ago, just $61 was extended and accepted this June, BofA said.

 
Just a couple of things to watch out for this week as we wait for instructions from the Fed.  Notice this chart of the Emerging Markets ETF (EEM) is already showing the same kind of downward-leading behavior we saw in August – right before our own "flash crash" occurred.  
We've already gone over our hedges in older posts, so I'm not going to bore you with details here but we will review them all in our Live Member Chat Room this morning and we'll review our positions today in our Live Trading Webinar at 1pm (EST).  If you are a free reader, you can see last week's Webinar replay here but you won't have access to the live ones, unfortunately. 
Be careful out there!  
— This feed and its contents are the property of The Huffington Post, and use is subject to our terms. It may be used for personal consumption, but may not be distributed on a website.